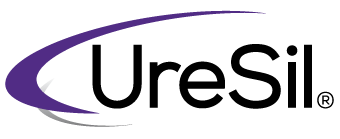 WEBSITE PRIVACY POLICY
Effective Date: June 9, 2021
1. Our Privacy Policy
UreSil, LLC ("UreSil," "we" or "us") respects your privacy and is committed to protecting your privacy when you visit the website, https://uresil.com, owned or operated by UreSil and its corporate affiliates (the "Website"). This privacy policy ("Privacy Policy") describes how UreSil, in our capacity as a "controller" under applicable laws, collects, uses, and processes personal information related to the use of our Website. 
This policy applies only to personal information we collect through the Website and other electronic communications sent through or in connection with the Website. This Privacy Policy DOES NOT apply to information that:
We collect offline or through any other means.
You provide to or is collected by any third party, including through any application or content that may link to or be accessible from or on the Website. These third parties may have their own privacy policies, which we encourage you to read before providing information on or through them.
Please read this Privacy Policy carefully to understand our policies and practices regarding your information and how we will treat it. If you do not agree with our policies and practices, do not access or use the Website. By accessing or using the Website, you accept and agree to be bound and abide by our Privacy Policy. 
2. Information We Collect and How We Collect It
We collect several types of information from and about users of our Website, including information:
By which you may be personally identified, such as your name, address, email address, telephone number(s), address, or any other identifier that can be used on its own or with other information to identify, contact or locate you ("personal information").
That is about you but individually does not identify you, such as project details, employment information or geographic location.
About your internet connection, the equipment you use to access our Website and other usage details. 
We collect this information:
Directly from you when you provide it to us.
Automatically when you access or use the Website.
From third parties, including other vendors or business partners
Information You Provide to Us 
The information we collect on or through our Website may include:
Name, email address, physical address, and phone number
Information that you provide to us by completing any forms on the Website.
Records and copies of your email correspondence with us
Automatic Information Collection and Tracking  
When you access and use the Website, we may use technology to automatically collect information to improve our Website and to deliver a better and more personalized service.
Usage Details. When you access and use the Website, we may automatically collect certain details of your access to and use of the Website, including location data, time of visit, length of time you visit the Website or specific pages, page views, scroll depth, click-stream information, referring URL, logs, location information, scoring content that you are interested in, and other communication data and the resources that you access and use on or through the Website.
Device Information. We may collect information about your device and internet connection, including the device's unique device identifier, IP address, operating system, browser type, network information, JavaScript support, screen resolution, and screen color processing ability.
Information Collection and Tracking Technologies
We do not use any technologies for automatic information collection.
3. How We Use Your Information
While the purposes for which we may process personal information will vary depending upon the circumstances, in general we use personal information for the purposes set forth below.  We use information that we collect about you or that you provide to us, including any personal information:
To provide support and services, including to operate our Website, to respond to your inquiries or complaints, to provide customer support and other support purposes, and to fulfill any other purpose for which you provide the information or express an interest.
To analyze and improve our Website, including to understand how users use our Website, to evaluate and improve our Website, to conduct surveys and questionnaires, and to detect, prevent, and address technical issues with the Website.
To defend our legal rights, including to manage and respond to actual and potential legal disputes and claims, and to otherwise establish, defend or protect our rights or interests, including in the context of anticipated or actual litigation with third parties.
To secure and protect our business, including to protect and secure our business operations, Website, network, and information and technology resources, and to investigate, prevent, detect and take action regarding fraud, unauthorized access, situations involving potential threats to the rights or safety of any person or third party, or other unauthorized activities or misconduct.
For legal compliance purposes.
4. Disclosure of Your Information
We may disclose aggregated information about our Website users, and information that does not identify any individual or device, without restriction. In addition, we may disclose personal information that we collect or you provide:
To fulfill the purpose for which you provide it.
For the purpose disclosed by us when you provide the information.
To our affiliates and service providers we use to support our operations.
To a buyer or other successor in the event of a merger, divestiture, restructuring, reorganization, dissolution, or other sale or transfer of some or all of UreSil's assets, whether as a going concern or as part of bankruptcy, liquidation, or similar proceeding, in which personal information held by UreSil about our users is among the assets transferred.
For any other purpose, with your consent.
To comply with any court order, law, or legal process, including to respond to any government or regulatory request.
To enforce or apply this Privacy Policy.
If we believe disclosure is necessary or appropriate to protect the rights, property, or safety of UreSil, our employees, or others.
5. No Collection of Information from Children
Our Website is not intended for use by children under 13 years of age. We do not solicit or knowingly collect any information from visitors under 13 years of age, and please do not use the Website if you are not yet 13.  If we learn we have collected or received personal information from a child under 13, we will delete that information. If you believe we might have any information from or about a child under 13, please contact us immediately through the contact information found in Section 11 of this Privacy Policy.
6. "Do Not Track" Signals
Our Website does not recognize or respond to "Do Not Track" signals or browser settings. If your browser or similar mechanism gives the Website a "Do Not Track" signal, the Website will not honor it because of the tracking described in "Information We Collect and How We Collect It". You should not use the Website if you desire a "Do Not Track" signal, because the Website will not honor it.
7. Cross-Border Transfer
Your personal information may be transferred to, stored, and processed outside your country of residence in the United States or another country that may not be regarded as ensuring an adequate level of protection for personal information under the data protection laws in your country of residence.  There are potential risks to you associated with transferring your information to other countries due to the absence of an adequacy decision and appropriate safeguards.  These risks include the risk that you will not be able to exercise your data protection rights under applicable law to protect yourself from unlawful use or disclosure of your information.  The data protection and privacy laws of certain countries may not afford you the same level of protection as those in your own country.  Where this is the case we will transfer the personal information where we are satisfied that there are comparable levels of protection equivalent to your country of residence by using a legitimate transfer mechanism to the extent required under applicable laws, such as pursuant to standard contractual clauses. 
8. Data Security
We have implemented reasonable measures designed to secure your information from accidental loss and from unauthorized access, use, alteration, and disclosure.
The safety and security of your information also depends on you. We urge you to be careful about giving out information in public areas of the Website. The information you share in public areas may be viewed by any user of the Website.
Unfortunately, the transmission of information via the internet is not completely secure. Although we do our best to protect your information, we cannot guarantee the security of your information transmitted through our Website. Any transmission of personal information is at your own risk. We are not responsible for circumvention of any privacy settings or security measures contained on the Website.
9. Data Retention
UreSil will retain your personal information for the period necessary to fulfill the purposes outlined in this Privacy Policy unless a longer retention period is required or permitted by law or defined in an agreement. We may retain personal information for longer where required by our regulatory obligations or professional indemnity obligations, or where we believe it is necessary to establish, defend or protect our legal rights and interests or those of others.
UreSil will also retain Usage Data for internal analysis purposes. Usage Data is generally retained for a shorter period of time, except when this data is used to strengthen the security or to improve the functionality of our Service, or we are legally obligated to retain this data for longer periods.
10.  Changes to Privacy Policy
This Privacy Policy may change from time to time, and you are responsible for checking this Privacy Policy periodically for updates when accessing or using the Website. The date the Privacy Policy was last revised is identified at the top of the page. If we make material changes to how we treat your personal information, we will notify you through a notice on the Website home page. Your continued use of the Website after we make changes to this Privacy Policy is deemed to be your acceptance of those changes. 
11. Contact Information
To ask questions about this Privacy Policy or our privacy practices, you may contact us in writing at the following address: 5418 W Touhy Ave, Skokie, IL 60077, by emailing us at sales@uresil.com, or by contacting us at 1-800-538-7374 (toll-free).
12. Additional Information for Residents in Certain Jurisdictions
United Kingdom/European Union/European Economic Area Privacy Rights
If you are an individual located in the United Kingdom, European Union or European Economic Area, you have the following rights, under the Data Protection Act of 2018 or the GDPR, regarding your personal information:
You have the right to request access to your personal information, and the rectification of inaccurate personal information concerning you and obtain a copy of the personal information held by us.  You have the right to obtain the deletion or the restriction of processing of your personal information in certain circumstances, including when the data are no longer necessary in relation to the purposes for which they were collected or otherwise processed, except when we are required by law to maintain or otherwise process your personal information, for the establishment, exercise, or defense of legal claims, or for the protection of the rights or another person.  You may have the right to request that we stop processing your personal information and/or to stop sending you marketing communications.  In certain circumstances, you may have the right to be provided with your personal information in a structured, machine readable and commonly used format and to request that we transfer the personal information to another data controller without hindrance.  You also have the right to lodge a complaint with a supervisory authority, in particular in the EU Member State of your habitual residence, place of work, or place of an alleged infringement of the applicable data protection law.
If you would like to make such a request, please email: sales@uresil.com and insert "GDPR Privacy Rights Request" in the subject line or call this toll free number: 1-800-538-7374.  To protect your privacy and security, we may take steps to verify your identity before taking action on your request.
Our Legal Bases for Processing Personal Information
GDPR and other relevant laws require that we inform you of the legal bases for our processing of your personal information.  Where the GDPR is applicable, our legal basis for processing your personal information will depend on the personal information concerned and the specific context in which we collect it.  We rely on the following lawful basis for processing personal information:  your explicit consent, processing is necessary for the performance of a contract to which you are a party, legitimate interest, and compliance with legal obligations, as described more fully below.
From time to time, you may provide us with your personal information in order to contact us or receive customer support.  In this instance, our legal basis for the processing of that personal information is your explicit consent.  Where our processing of your personal information is based on your consent, you have the right to withdraw your consent at any time.  This does not affect the lawfulness of the processing based on consent before its withdrawal.           
When we have collected your personal information to operate our Website and personalize your experience on the Website, our legal basis for processing of that personal information is our legitimate business interests (when not overridden by your data protection interests or fundamental rights and freedoms).
If you have any questions about or need further information concerning the legal basis on which we collect and use your personal information, please contact us using the contact information provided in Section 11.